So I had a busy couple of days! 
Friday I had my second chemo appointment with the nice doctor whose knees I like to lick.  You can tell a lot about people by the way their feet smell.  This lady is busy busy busy and very nice.  So far, I have been feeling great after my treatment.  AND Momma is making me fried eggs again.  I am scheduled to back to NEVOG again in 3 weeks, and this time they will do an ultrasound and x-ray again.  Momma says she will be nervous.  I don't like they way she smells when she's nervous.  She also said I am going to have to get my belly shaved again for the ultrasounds.  Oh well….it is nice being cooler with no fur on my belly in the summer.
Then later that afternoon I went to see my holistic vet.  She is very nice and her feet have been very busy, too.  I had a good appointment, but the only thing was…..my little sister tagged along.  I like Lola, I do, but sometimes she gets in the middle of me trying to get my sweet on with somebody.  Always butting in…..I suppose she means well.  Anyway, the people there are very nice and I like to pee in the park next door.
On Saturday I went for my first Physical Therapy appointment (no Lola tag along, yeah!).  That was a lot of fun.  I met new people and they were very nice.  Their feet smelled busy as well, lots of dogs.  We did a lot of fun stuff!  Serpentines with cones (just like rally!) and jumps and ladders, oh my!  After I did all these activities, the nice lady gave me a rub down.  That felt really good.  Momma & Dada got me a balance disk that will help strengthen my back leg.  I get lots of treats when I get both front paws on it at the same time.  And guess what…this place has a pool!  Just for doggies!  But I can't go in yet.  Momma says my sore needs to heal up completely before I can get in the pool.  My sore keeps getting smaller and smaller, but chemo slows the healing process down, so I still have to wait a little while.
So I've been a good boy, taking all my medications that Momma & Dada give me.  I've been eating all my suppers with all of my supplements.  They keep taking my temperature, which is not so much fun.  But Momma says it has to be done so they can tell if I am getting sick again.  I hope not, but at least I got eggs last time when I was at the ER Vet. 
It also seem that Nana comes and stays with me after I get chemo, too.  She likes to make sure I am doing okay and that I am feeling well.  She is good company and a very good ear massager, too.  My Mimi was here the other night, too.  She brought new toys for me and Lola, and there were hidden treats in them!!!  Mimi likes it when I lick her shins.  I like both my grandmommas a whole lot.
My cousin Kayla send me a nice note after I had my surgery.  She is only a few months older than I am, but she writes a lot better than I do.  Of course, she does have thumbs, and I don't…..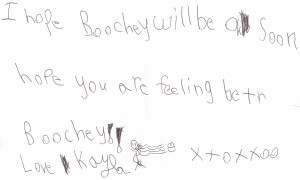 Kayla and her sister Tori are a lot of fun.  I like it when they come to visit me.  They like to feed me treats.
 Momma says we know lots of nice nice people.  I know I like the vet techs a whole lot.  They like to give me treats.  And some I know from the doggie gym, too.  The vets are very nice and even call to check on me.  One of them used to have the nickname Butch when he was younger, too!  Momma says that my doctors keep in better touch with me than her doctors do with her.  I think she needs new doctors!  I hope she at least gets treats when she goes to see them. 
The other doggie Mommas are nice too.  They sent this nice package with lots of toys and treats.  It even had Chuck-it balls!  My sister and I were playing with the armadillo today.  I remembered Momma cried the day it came.  I got very excited and wanted to sniff through the box.  I guess I hadn't gotten up on my own in a couple of days until this package came.  That day I was catching balls in mid air again.  Momma cried.  She cries even when she is happy.  She says we are very lucky to know such nice nice people.
Momma says she hopes to type my blog for me more often now that I am doing better.  Maybe we can put up some pics of me on my new balance disk.