Butchey Hudson's Momma here.  As many of us know here on Tripawds.com, one of the words we hate to encounter after a cancer diagnosis is Metastasis.  It is a nasty word, and unfortunately we have it.
One of Butchey's chest x-rays back in May showed a spot that would probably be on the lung.  About 6 weeks later, the spot had doubled in size.  That growth spurt happened while we had him on Palladia, so unfortunately the drug didn't slow the growth of the nodule.
August was not a terrific month for Butchey, but so far September has been much better.  It seems the Palladia didn't agree to well with Butchey.  We posted before about his bowel issues with it.  The pigment also lightened on his nose and on his paw pads.  Whether a coincidence or not, his paw pads also got really soft and he began to lose traction on his feet.  Not a good thing for any dog, but especially not good for a Tripawd.  At first it was issues with the doing stairs.  Then it was issues on the floor, even though most of the floor is covered with carpet or throw rugs.  Then he was even slipping on carpet.  He also seemed to have some weakening in his remaining back leg, which would flop out from under him quite a bit for about a week in August.  He barely played with Lola.  Then he stopped eating.
So away the Palladia went.  Bye-bye.  After giving him some time off from meds to clear out his system, we are going back to a modified version of his previous metronomic protocol.  We started with Deramaxx (replaces the Piroxicam as the NSAID) and we are also back on Cytoxan.  Holding off on the Doxycycline for now.  He had vomitting issues several months back, which led us off the old metronomic protocol.  We are hoping it was mainly the Piroxicam that caused that issue, and also hoping that where Deramaxx is supposed to be easier on the stomach, we won't have any vomitting issues.  He wasn't on the Doxy for quite a while, so we know that wasn't causing the last bout of vomiting on that protocol.  But we know it can cause stomach upset, so we are holding off on Doxy for now.
So this modified metronomic protocol was one of the choices available to us.  We also had a couple of chemotherapy options.  But we felt that after 5 rounds of Adriamycin last year, we had given him all we really wanted to on that front.  Keeping quality of life a top priority, and we were already quite concerned after the setbacks in August, more chemo just didn't seem right to us.  We had a good 6 months on the old metronomic protocol before, and it kept the cancer at bay for that time period.  It did seem like the lump on his neck and the nodule on his lung happened while we were off the protocol and trying to get the other issues worked out.  We are hoping the Cytoxan can slow this nodule on his lungs, or even better – stop it from growing.  We rescan in another few weeks and will see what the size is then.  We are keeping our paws crossed.
So, after the Palladia dry out, things did return to normal.  Thankfully!  Gradually, the strength returned in his back leg.  We used Pawz Boots in the interim to help with the slipping issue, but eventually the pigment started returning to normal and we now have traction again.  With those improvements, his confidence has returned.  He started doing some stairs again.  Then one morning last week he went down the long flight of stairs off of our back deck, just like that.  All by himself, no harness, no boots.  I can't really explain the sense of relief we felt.  After that he initiated a tug game with his leash after a #2 in the front yard.  So we knew he was feeling much better.
We did manage to get some swimming in during August and September.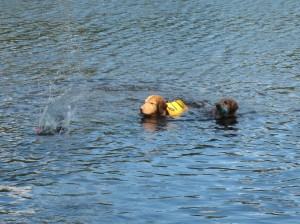 And some cuddle time with Tessa…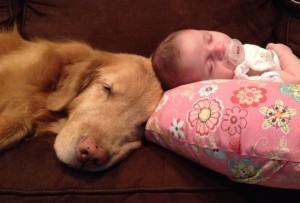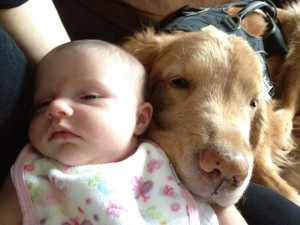 Trying to enjoy each day and not spend it in tears thinking about what is ahead of us.  Hemangiosarcoma, you suck.