So you want to know about me?  Usually I give people the sniff down to find out about them.  So I'm calling this page Sniff Me.
I am Butchey Hudson.  I am my Momma & Dada's hero, or so they tell me.  They say I'm brave and a very good patient.
I'm a Golden Retriever and I have hemangiosarcoma.  I was diagnosed in May of 2011 at the age of 6.5 years old.  I had to get rid of my right rear leg because the hemangiosarcoma (HSA) tumor was in my knee joint.  Us Goldens are no strangers to HSA, but the knee joint is not a very common place to find this kind of cancer.  At first they thought I had a torn ACL…Momma says a torn ACL would have been better, but here we are.
So on June 14, 2011 I started my new life as a Tripawd.  It was kind of rough in the beginning.  I ended up getting an infection at the incision site, so my recuperation time was a little bit longer.  My Momma and Dada were very worried about me, but we all got through it together.  Even my little sister, Lola, cut me some slack….for a while.
Now it is important to have good people around you.  And I really like my vet docs very much.  In fact, the doc that did my surgery used to be knicknamed Butch when he was younger.  Momma & Dada take me to a see a holistic veterinarian, too.  I also do physical therapy.  About 4 weeks after my surgery I started chemotherapy treatments at NEVOG.  I will be getting andriamycin every 3 weeks, and get between 4 and 6 treatments depending upon how it goes.  I was originally given a prognosis of 12-18 months, but the mitotic rate of my tumor came back kind of high so it was changed to 10-14 months.  (See update below)
Momma's friendy Tracy and her Tripawd Maggie told us about this Tripawds site and it has lots and lots of info, especially if you are contemplating an amputation for your best friend.  We really like our Ruff Wear harness.  It was a big help when I had to learn to do stairs on only 3 legs.
When I had my fourth leg, I used to do a LOT of Rally Obedience.  We really liked the Association of Pet Dog Trainers (APDT) Rally O venue.  I earned my Master Champion title (ARCHMX) twice!  I even got on the Top 20 Overall list for 2010.  I still like to do Rally.  I am also looking forward to having fun in some other dog sport venues that allow us Tripawds, like CDSP Obedience or Wag It Games.  But we don't care much if we qualify these days.  We just do it to have a good time because I have fun in the ring.  I am actually a bit of a goof – all right I'm a lot of goof!!!
I still love to run around my back yard and play ball just like I did on 4 legs.  I am adjusting well to life as a Tripawd, and doing well with my chemo treatments so far.
This is me when I was recuperating.  In the immortal words of Dug from Pixar's Up "I do not like the cone of shame."  Oh, and I really really like soft squishy toys.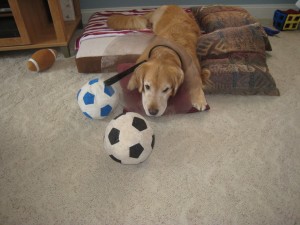 Update – November 2011
So I ended up doing 5 rounds of adriamycin.  The first 4 treatments were 3 weeks apart.  Then we waited four weeks before doing 5th treatment.  We have been very very fortunate with our scans and x-rays.  No masses found to date.  I just started a metronomic protocol on November 10.  I get Cyclephosphamide 1x day, Piroxicam 1x day and doxycycline 2x day.  I am also on a holistic protocol of Triforte and Dispell Stasis in the Palace of Blood (TCM).  We are investigating some additional holistic complements to our regime and will update this as we go.
Update – June 2012
While trying to work out some vomitting issues, we came off our metronomic protocol for awhile.  During this time another HSA tumor popped up on the back of Butchey's neck.  We had it removed and got clean margins, but clean margins don't really mean much with hemangiosarcoma.  Decided to give Palladia a try.  Also discovered a nodule on lung in early July 2012.
Update – August 2012
Palladia – not so much success.  See blog posts under Palladia.
Update – September 2012
Back on Cytoxan and now Duramaxx.  Another nodule discovered in lung just before going back on metronomics.  Also went on I'm Yunity mushroom TCM in late Sept.  See blog post for U Penn study links.
Update – November 2012
2 Nodules are now known as Felix and Oscar.  Felix doesn't seem to be growing, but Oscar has doubled in size in 6 weeks (6 cm to 1.2 cm).  Adding Doxycycline to metronomic protocol.