It is Butchey Hudson here.  I haven't updated in a while, but that is Momma's fault.  I can't type, I don't have thumbs.  So Momma has to do it for me.
So I started chemo on July 8 and did very well after the treatment.  But then on day 11 I got real sick with something called like…sepsis?  I got a high temp of 104.something and was real tired and not hungry at all.  I ended up having to stay in the doggie ER overnight and the NICE LADY there (Momma called her a -vet tech-) made me an egg and it was very yummy and I ate it all up.  I guess Momma got worried about me.  She forgot my food smells funny bad icky when I am on antibiotics and I don't like some of the stuff her and Dada put in there for me.  ICK on that stuff!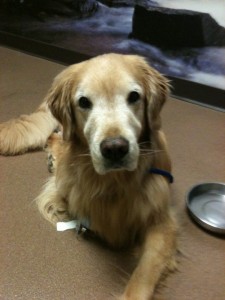 But eggs are really good!!!!  My friend Maggie's Mom gave Momma the egg idea.  I do like a runny yolk…..
This Friday I go back for chemo again.  Every 3 weeks.  Momma and Dada think they might change my dosage a little.  I hope I do OK, and I hope somebody makes me eggs afterwards.  I also start physical therapy on Saturday.  I wonder if there are any eggs in physical therapy.  Momma mentioned an egg and a ball together in the same sentence, but I think she's talking about something different.
I am doing very well, though.  I LOVE my Tripawd harness that my Dada ordered from Jerry.  My seroma sore is nearly closed.  Chemo slowed it up, but slow and steady wins the race.  Getting around on 3 legs isn't so bad.  The only things I can't do is scratch one side of my face and <Momma's edit HUG> my sister, Lola.  So I learned if I make a certain face at my people they come and scratch that side of my face.  And my sister….well I haven't figured out how to <Momma's edit HUG> her yet.  It seems some things you do need two rear legs for….hmmmmm
I had a REALLY special day on Sunday.  Momma is trying to upload the video to something called YouTube.  Maybe we will post that later.  This and me and my sister, Lola.  She is a pain in my tail most of the time.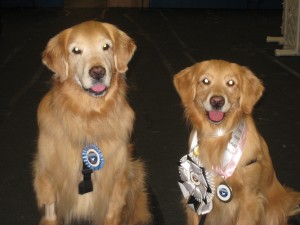 Woofs and wags, Butchey Hudson