So on Saturday, Momma took me and the MonkeyButt Lola to another CDSP Obedience Trial.  I got to play in the ring and I earned my Companion Dog title!  Here is me and my nice looking ribbon: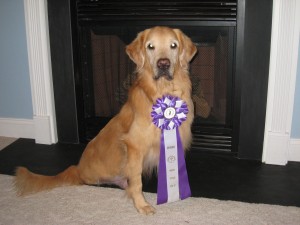 Momma says you need 3 qualifying scores to get a title.  I guess people call them "legs".  Which is great, because that is all the legs I have!  The first run in our morning trial, I did not qualify.  I had a nice run (which is the video below), but then you have to do an "honor".  An honor is when you have to sit still and stay beside your person.  Well, I was so geeked up that I just couldn't sit still and stay.  But I was a good boy for the second run in the afternoon and Q'd with a 193.5 with my crooked Tripawd sits and all.  Momma said she don't care what happens – Q or No Q – high scores or low scores, as long as I'm having fun.  And I was having fun!!!  See….
So Lola…..she had an okay day, but she really wasn't into stays.  She says stays aren't her thing.  And then she bit me in the front leg.  She's mean I tell you….mean.  At least I got eggs with my supper AND for breakfast this morning, too!
Well the day after I enjoyed some well earned R&R.  I think I just suckled my fluffy soccer ball all day.  I like these.  I have a few of them.  Slobber sponges.