Dearest Brother,
They are very sad.  They cry all the time.  I miss you, too.  But I knew.  We both knew.  Momma says that today would have been your 27 Month Ampuversary.  So in memory of you, she served me some Cheesy Eggy Goodness.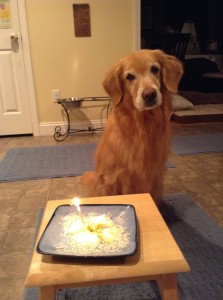 It was very good, and I'd like to say I'm sorry you didn't get any, but you know….I'm a dog.
I still smell you everywhere in the house.  When Momma and Dada came home that day, I gave each of them a sniff, and then I sniffed your pillow and Allie Gator that had gone with you.  I knew.  And they knew I knew.  It's been quiet here at times, but Nana lives here now so I'm with her during the day.  She uses me as her excuse not to go out, now.  I hear her telling all her friends and family.  It used to be you, now it's me.  Everybody worries about us.
I smelled you outside on the grass the other day, and I couldn't help but pee there.  I probably should not have, but I'm a dog.  Old habits and all, you know?
The Hairless Pup is all over the place now.  I know you really liked her.  She looked for you on your bed, but Momma says she is much too young to understand what is going on.  Momma says she glad for the first 13 months of her life, she has pictures and videos with all of us together so she can tell her all about it later on in life.
All your stuff is still everywhere.  I hear them talking about putting it away slowly.  They say it is for my sake, so I won't be upset.  But I know it is really for them.  They'll be so sad to put everything away so soon.  And they know that I know that they know it is really for them.
Momma says it's only been 5 days, but 5 days too long.  Here's to you Butchey Hudson, here's to you.