Butchey Hudson & his Momma here.  Momma owes me a 4 hour long rub down.  We haven't posted since January when Barney was here.  She is a naughty naughty Momma.
Momma wants me to say she is very sorry.  She has a lot of excuses, like Dada going back to work days and still working nights.  It is her very busy time of year (she does taxes, I guess that is when the gophermints collect bones from you, and people don't like to give up their bones) and that Hairless Pup started daycare and she's been sick, too of course, she's brought every germ home.  Well I'll give Momma this – she has been busy fussing over me, Lola and the Hairless Pup.  But I'm still demanding my 4 hour rub down.
So here goes…
That stinky smelly guy was here and he was alright!  We hung out on the couch mostly, because you know I AM the Master of Relaxation.  (I should give classes Momma says).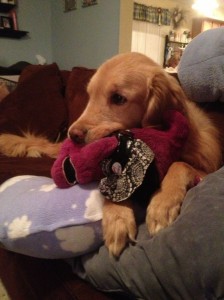 We took a trip into Boston Garden (GAHDEN) while he was here.  We went to see the Ducklings.  He didn't behave himself much, because he tried to ride one of the ducklings.  I told him this isn't that kind of rodeo, buddy.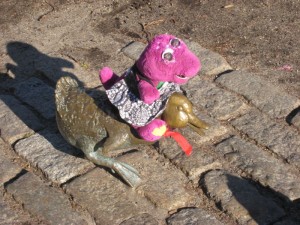 Don't worry, I didn't pee on the ducklings.  I do have some couth.
Then we took Barney on some sightseeing.  He wanted to see the Boston Public Library.  Why, I'm not sure.  He certainly can't read with that eye sticking up the way it does.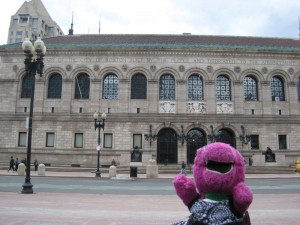 Then Trinity Church and the John Hancock Tower.
Then we went (well I couldn't go) but Barney went to the Skywalk at the Prudential Building and got to see some sights.  Here he is overlooking the Back Bay and the Charles River (Rivah).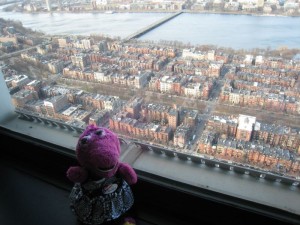 And then we went to Boston Harbor and looked longingly into the Atlantic and to take some time to wonder how the Barney across the pond is.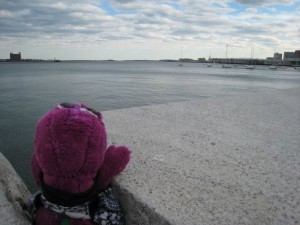 We hear that other other Barney is a teetotaler.  Not sure he'd get along with Momma, she likes her wine.
I had to make sure I taught Barney how to chew a bone before he left.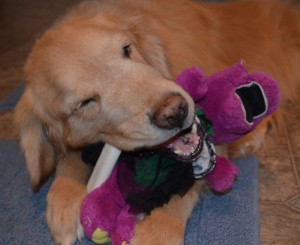 The rest of the time we chilled.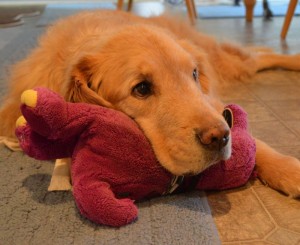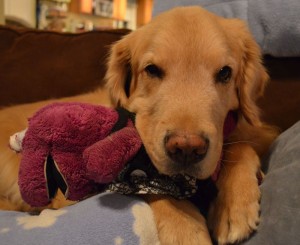 Momma read the journals and cried a lot.  She went through a few boxes of tissues.  She said that was the awesomest part for her.  We added our own entry and gave Barney one last sniff and then sent him on his way to Jill the Cat.  Thankfully, she gave him a new shirt.  Although we were partial to the Bret Michaels dress, it was looking kind of rough. Every rose has its thorn.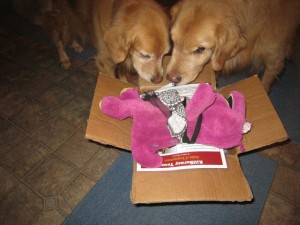 All in all, we were very honored to play host to the Purple Menace.  We hope every Tripawd gets to spend some time with him during their journey.  Thanks to Angel Lupe's Mom for sending him along to us.
So let's see…What else.  After Barney left, I had some appointments with the cancer doc.  I'll give you the nutshell version.  I still have the 2 mets in my lungs (Oscar and Felix) and now I've also got a lump on the side of my head just under my ear, and my lump has come back where the barber gave me a bad haircut last June.  So it would seem that the CCNU was not working, because Felix and Oscar continued to grow and the other 2 happened while I was taking that drug.  So Momma & Dada & the Doc talked about giving me that 6th round of Adriamycin that I never had back in November of 2011.  So I had that back on March 8 and did very well with it.  I have a re-check next week, and we'll see where to go from there.
But I'm doin' FINE, still lovin' life and giving kisses for free.  I also celebrated my 20 and my 21 month Ampuversaries.  Yes in the traditional cheesy-eggy-goodness style.
I did have one little mishap where I pooped in my crate the other week.  Momma says I don't need to tell everyone that, but I said I would document everything in my blog, so there you are.  I pooped my pants, except that I don't wear pants.  I had to have a tubby, of course.  And I've been loving to chew my paws even worse lately.  So Momma, Dada, Nana or Mimi have to put my rubber booties on everytime I go out because it seems to be the cold or the wetness that makes me want to chew them.  We even have a song we sing when we put them on: "Booty Time, Booty Time, Get on Down the Road".
Momma is driving me nuts!  Fussing over me, checking me for dry skin, treating my paws with some stuff that does feel good.  And always rubbing me and checking me for more lumps.
Speaking of lumps – Lola had to go and get a lump checked, but it came back as a fatty lipoma.  She lucked out, that girl.  She's always sniffing me, too.  Bugging me to play…urgh.  She's a pest!!  She runs at me and jumps right over me, sometimes even T-bones me.  No respect, I tell you – no respect.
Here she is pushing me around in one of the many snow storms we've had here this winter.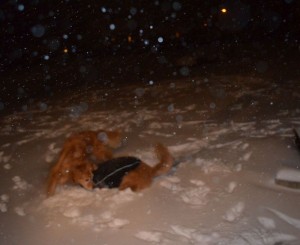 And here we are in yet another humiliating picture of us being dressed up that Momma just insists on….  Momma likes to say it is the Hairless Pup and her Irish Guard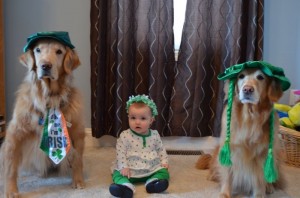 That is it for now folks. It is time for my supper!