So it is Butchey Hudson here.  I found out why Momma was so giddy.  She brought home this purple stuffed thing in a dress and it smells like it has been through 1,000 dogs.  So I mean it smells GREAT!!!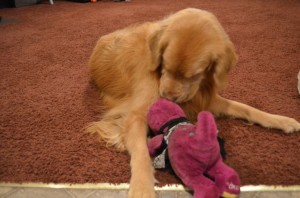 All the scents…mmmmmmmmm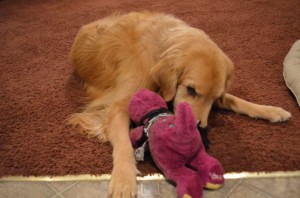 So in case any of you don't know about the Kill Barney tour, he was Spirit Jerry's favorite toy.  Now he travels alllll over the place and stays with Tripawds and even with pawrents of Tripawds that have gone to the Bridge.  He brings comfort to everyone and a little bit of fun, too.  You can see everywhere he's been on his tour map.
So Barney comes in this box with instructions and a bunch of stuff that is really really cool.  We don't want to say much because it is a nice surprise for anyone who might want to have him visit.  Momma keeps reading all the journal entries with a box of tissues.  And then she hugs me and gives me a long ear rub.
So we have a mission to show this purple menace a good time as long as he behaves.  For most of this week, we've been cuddling on the couch.  I take Barney up and down the stairs, he goes with me wherever I go.  Barney comes to bed with us.  He's all right this fella.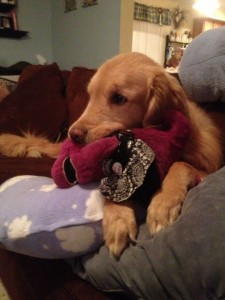 Just so Barney knows who is Boss, I showed him what happens when my stuffed toys get out of line.  Take Roofus here.  He got out of line, so I took his ears off.  Don't worry, don't worry….Nana is still staying with us.  She is my on-call stuffectomy triage nurse.  Everything I tear apart, she sews back up for me because she loooooves me soooo much!  And she's pretty good with a needle and thread.  Did I mention Barney came with his own needle and thread?  He might be needing that before he goes onto his next visit.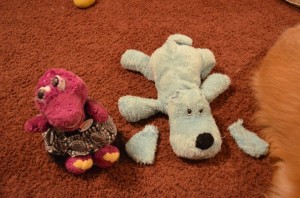 Here's us posing nicely.  Someone promised us cheese if we stayed.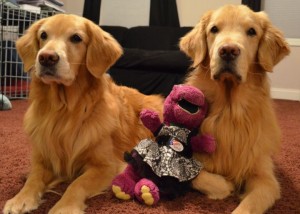 Then I got down to attempt a shred mission.  I am so fast, even on 3 legs, that the camera couldn't catch me!!!  Lola tried to get in on it, but I told her NO he was mine!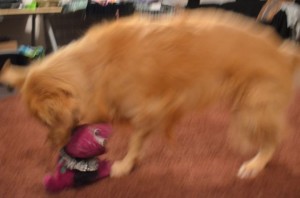 Momma made Lola wear Zephyr's Monkey Butt ears.  Momma and Dada were laughing pretty hard, but Lola didn't think it was very funny.  I always said she doesn't have a good sense of humor.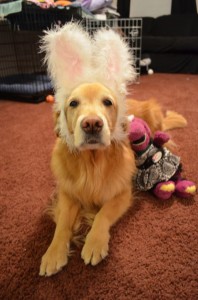 Later that first night, Barney met Bumble…for a bath.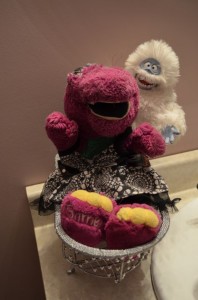 But I told him he is here to hang out with me, not the Bumble.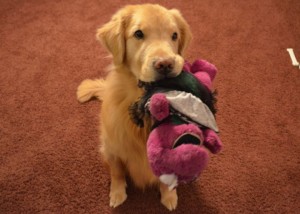 Momma said this weekend we were going out to do some stuff with Barney.  She gave me that look that I understand to know I'll be getting treats, and it will involve a car ride.  Yippee!!!!  More to come on Barney's visit later!