Hey everyone, Butchey Hudson here.  WELL!  Life sure has been bizarre here at the house.  Let me back-track a bit…
So then a few weeks ago, Momma and Dada left for a while, but Nana AND Mimi were BOTH here while they were away.  Don't ask me how many days, I'm a dog – I don't have a good concept of time….Maybe 3 or 4 sleeps.
Then Dada came home and had this hat and blanket for me and Lola to smell.  Hmmm…
THEN, FINALLY, Momma and Dada came home with this….this THING.  I think it's a "she" and she sure does scream an awful lot.  Momma and Dada call her Tessa, and I guess she is "the baby".  At first, I liked her better when she was still in Momma's belly.  But now I am used to her.  Although, she doesn't look like a baby human, she doesn't walk, or talk, or even crawl.  She looks like a hairless pup.  And she just yells a bunch.  Especially in the middle of the night.  She disrupts my beauty sleep.  But Momma and Dada seem to really like her.
Here is the official "fur-amily" photo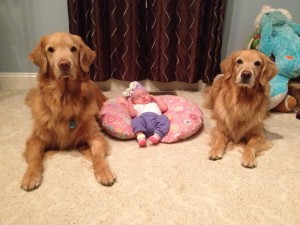 So, some might say, that now with a baby in the house, there is less time for the dogs.  WELL – Somehow Momma still finds time to brush me out and trim my nails!  I wish she'd have less time to trim my nails – and maybe forget to clean my ears. 
I guess she is OK.  She smells like poop a lot, so that isn't so bothersome.  Here's another pic of me and her.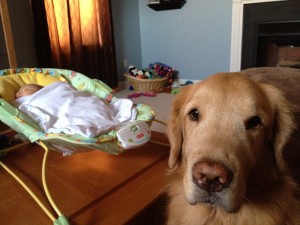 Enough about her, because, you know, this is MY blog.  She can get her own blog.  (I hope she doesn't, Momma barely finds time to write what I tell her to)
So more about me.  I am on Palladia now for about 3 weeks, and I've been on and off it because I keep getting *The Runs*.  You know – when you have to RUN outside (or where ever you all poop) because the urge is just THAT intense.  So now I'm also on Flagyl to get rid of that, but we are trying to find a balance on dosages.  So I was on 80 mg of Palladia, and now I'm going down to 65 mg.  I was at my doggie oncologist yesterday and that's what they decided.
And Momma has got me back on my PT workout.  We weren't doing much because Momma wasn't feeling well towards the end of her carrying around that hairless pup inside her.  (Momma wants me to mention she was 8 lbs 15 oz when she was born c-section.)  But now that Momma is feeling better, she's up my fluffy butt again with all these discs and the bosu ball.  Core training she calls it….I'd call it Bore training if I wasn't getting treats while we were doing it.
So that's what is going on here.  Oh, yeah, and Lola is still a pesky little sister.  Almost ran me down on the back deck stairs the other day.  As if my confidence wasn't shaky enough!