Butchey Hudson's Mom Nancy here.  Tough to write this one from Butchey's point of view ;0)
Background:  At the time Butch was diagnosed with HSA in right rear knee joint, the oncologist recommended amputation and 4 to 6 treatments of chemotherapy (Adriamycin).  I hope I am quoting her correctly (will review all specifics with her on Tuesday's appointment), but she had told us that 4 treatments is standard and if he was doing well he could get a 5th and 6th.  But definitely no more than 6 treatments. 
So we have now completed 4 treatments.  Our 4th treatment was 3 1/2 weeks ago.  This upcoming Tuesday we meet with her again and Butch gets an ultrasound of his heart to see if there has been any damage.  If there is any signs of damage to the heart, then obviously chemo is out of the question.  If the ultrasound comes back okay, then we have a decision to make on doing a 5th treatment.
We decided to have our regular vet and holistic vet check him out.  We trust them both very much and just wanted to rule out any obvious signs (to them) of any health issues.  They both think he looks good.  To me, although his spirits are great, he looks a bit haggard.  He has lost a ton of coat and has that skin discoloration that apparently is a side effect of adriamycin.  He has also lost about 5 pounds in the last 3 weeks, which visibily (to me) includes a lot of muscle mass in his front shoulders.  I would have thought his muscle mass would increase in his front shoulders, given the rear leg amputation. 
He has also had a big issue with skin allergies.  About a week or so ago, we finally made the decision to put him on Temaril-P (prednisone).  This has made a HUGE improvement in the allergy department.  He hadn't been able to be out of his "cone of shame" since the surgery in June, really.  Where before you couldn't get him unfocussed off of chewing his paws, now he barely pays them any notice.  We had to compromise with the prednisone aspect to give him a better quality of life, and we are very glad he is doing better with that.
So now what to do about a 5th treatment?  If you asked us 3 weeks ago, we would have definitely have said no – given the allergy issue.  Now that the allergies are so much better, we are on the fence.  The weight loss really concerns me.  And I am of the mindset, that if all that (including my perception of his haggard appearance) is happening on the outside – Then WHAT is happening on the inside?  Or more aptly phrased – "How bad is it on the inside?"  Otherwise, his appetite is great.  He had a bout of diarrhea around his 4th treatment.  Flagyl along with a hamburg and brown rice diet cleared that up and he has been okay in that department.
I am very interested in hearing from any of you who have found yourselves at this impass before and what was involved in your decision making process.  I know regardless of what route we choose, hindsight is 50/50 and we could have regrets and What Ifs either way.
Of course we still have our appointment for the heart ultrasound and a consult with the oncologist first.  Our decision might be made for us, and she could have additional info that could sway us in either direction.  I wonder if I am making too much of the decision and should just go with it if we get the clear.  But something in my gut just tells me to be cautious….
Here's a recent picture taken about a week ago.  This one even includes Lola!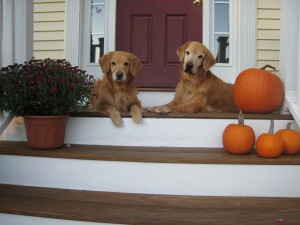 Well gotta go…Big Boy is nudging me to let me know that he wants his supper.  For some reason I keep seeing an Egg…  I told you his appetite was fine!  =)