So last Friday night we stayed at a hotel in the big city Boston.  Me & Lola got to have steak from a really nice restaurant called Grill 23.  Here's a special woof-out to Jason, Yannick & Justin for taking care of our very special treat.  Thanks very much!  These guys are nice people!  I give them 3 paws up!  I'd give them 4…but…I only got 3 to give.
Here we are demonstrating our very nice "Leave It" manners.  I actually did sneek a piece in when I thought Momma wasn't looking, but she caught me.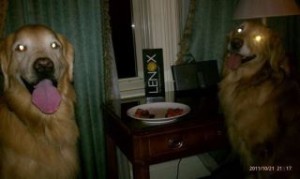 Momma forgot the good camera, so Dada took this pic his cell phone camera and Lola looks like she has CRAZY EYE.  But then again, she IS crazy.
When we were headed out for a potty run in the big city, I met this nice fella in the lobby of the hotel.  He wanted to greet me.  Well, generally during a greeting I like to have my butt scratched.  I tell people this by trying to walk through their legs and leaving my butt out there to be scratched.  Seems pretty clear, right?  Anyway, he seemed a little shocked when he realized I was missing a leg in back.  Oh well.  I guess somebody should have warned him.  But please people, don't be afraid to scratch the bum of a Tripawd!  Don't be afraid of the bum!
We took our very first elevator ride and Lola got nervous and had to lay down.  Not me, I did fine on 3 legs, too.
So they have this thing called "room service".  If I had known about room service, I would have been calling them everyday!  Because, look what we got!
I love eggs…..I wonder if we have "room service" at home….?
Then, the next morning when we were leaving this other nice fella (a different nice fella) comes and knocks on our door.  He takes all our bags that Momma & Dada packed up and then we go to leave.  He asks about my spare leg and Dada tells him the story.  He says I look great and happy and then he goes back inside and gets these two stuffed elephant toys and gives them to me & Lola.  What a nice fella!  But Lola's got 4 legs, so I'm not sure why she needed an elephant, too.