Hey everyone – Butchey Hudson here.  So last Wednesday, Momma and Dada took me up to see some people I know.  Now, all these people are very nice, but I've never gotten groomed there before.  Well I hope I don't get another grooming there, because look what happened!  They took too much off the back!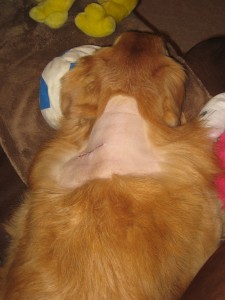 I feel a breeze on the back of my neck and something is very itchy now. 
Anyway….Dada says I had another tumor that had to come out.  The report came back and it is a confirmed hemangiosarcoma tumor.  So it would appear my cancer has now traveled.  Momma and Dada are very sad.  I see them crying even though they try to hide it from me. 
Lola just thinks I look funny, and she keeps trying to smell me on my bad haircut spot.  But for the most part she is being very nice to me.  But she's suspect…something must be up.
Nana has been here a lot, and Mimi was here the other day, too.  Momma has been smelling funny for quite a while now and she has….well….she's put on a lot of weight, especially in her belly.  Lola has been a bit clingy with her, too.  But Nana and Mimi have been here helping Momma and Dada out.  Nana ALWAYS makes sure I have my food cooked for me.  I am happy she is here to look out for me.  She gives great massages, too.  Here is a nice picture of her and I.  She was laughing about her shirt, but I can't read, so I don't know what it says.
So maybe it is a coincidence, but right after the haircut, the pink elephants came back for a visit.  But they are not as numerous as my big surgery a year ago.  Momma says it is Tramadol.  I am doing quite well now though.  But Momma makes me wear a sock on my back leg so I don't mess up the spot where I they gave me the bad haircut.
Momma says that this Tuesday we go to see my oncologist to see what she says. 
Oh my….I need to go, there are a lot of fireworks going off now and I need to try to sit in Momma's lap.  It is hard now with that big belly of hers….
We will write more later….I have the shakes and can't type very well.