Wow, it has been a while since we posted.  I'll have to bug Momma about that.
Today is my one year ampuversary!  Momma & Dada are real emotional about it.  They keep telling me how much they love me….AND I've gotten more belly rubs than Lola today!  Ha!  I wonder…how long is a year anyway?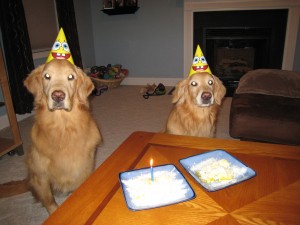 In traditional fashion, we celebrated with some Cheesy Eggy Goodness.  Lola got her own plate, so she wouldn't try to thieve mine.  Momma made us wear party hats.  I'm not sure who Sponge Bob is, but Momma and Dada wore them, too.  Me & Lola weren't happy about the hats, but we kind of forgot about them when we got to (finally – after ALL the picture taking) eat our C.E.G.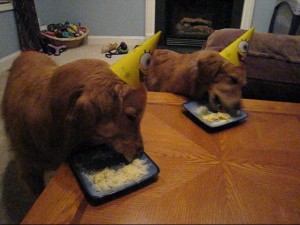 So, things have been good.  I had clean scans the beginning of May.  Then I had a bout of some vomiting.  That seems to be squared away now, or so we hope.  Momma tells me to keep my paws crossed for good luck, but I can only cross the front ones. 
I wonder…now that this big year has passed, will I continue to get special treats on the 14th of each month…..?  I sure hope so.  But maybe somebody could remind my Momma and my Dada, though please!
Here's some more pics of me.  I like stuffed things, especially big stuffed things….like my Big Bunny.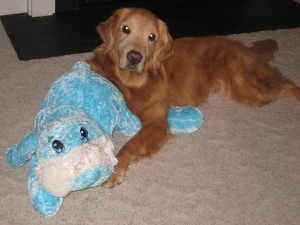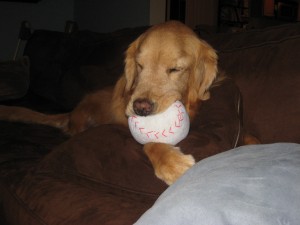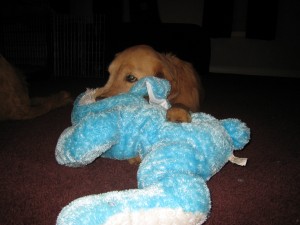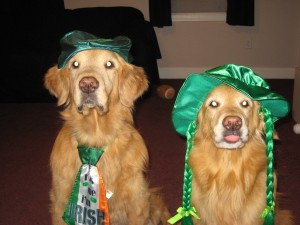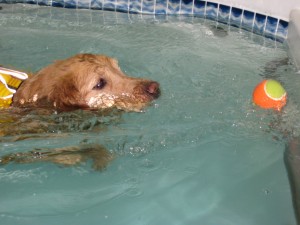 OK – Got to go.  Momma says she promises to post more later, but right now she is wanting some cuddle time with me.