Must mean I'm getting eggs!  Although I do miss pumpkin treats, Momma says flour can't be a part of my diet for now.
So today is my 4 month ampuversary and tomorrow I turn 7 years old.  Momma & Dada can't believe I'm going to be 7.  But time flies when you're chasing balls.
I am doing pretty good after my 5th chemo treatment.  My doc just called with my day 10 CBC results and I am going to have to get rechecked again in 3 to 4 days to make sure my white blood cell count and my neutrophils go back up.  I might need to stay on Baytril a few extra days because I am at risk of infection.  She is very nice and she called late on a Friday to tell us.  Momma says my doctors are nicer and call more to check on me than her doctors do for her.  Ha ha ha!
Momma got me a peanut from FitPaws and I've been having a lot of fun with that.  My sister Lola tries to out perform me, but she forgets that she has 4 legs.  Showoff!  I still work with my balance disk, but we needed to do a bit more.  I've also put on 2 pounds, so Momma & Dada are relieved that I am gaining back some weight.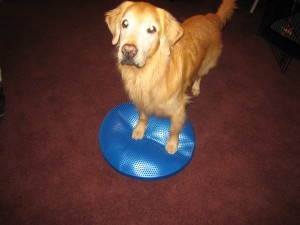 We've been looking at booties for me for the winter.  We were looking at PAWZ (pawsdogboots.com) and at ruffwear.com at the Grip Trex or Polar Trex.  If anyone has any feedback, let us know.  Momma is particularly worried about me on ice this winter.  We live in Massachusetts and I LOVE the snow.
We also had some sad news.  One of my fellow Rally-O doggie friends, Amy, is sick with cancer.  They are not sure if it is melanoma or lymphoma yet.  I think they find out on Monday at her vet appointment.  My Momma and her Momma always hang out together at Rally trials.  Please keep Big Sweet Amy and her Momma in your thoughts.